A paranormal investigating duo from British Columbia is looking to represent Canada on the North American stage of TV.
Jon and Karina Kozuska have combined their talents with television show Thunder Boyz producer Dean Trumbley to bring theatre-going audiences in Vernon a different kind of paranormal experience: a full-length feature film of an investigation.
What originally started as 20- to 30-minute episodes on YouTube, under the name True North Paranormal's "Paranormal Probes", has been expanded on and premiered at the Vernon Towne Cinema, as well as the Roxy Theatre in Saskatoon and The Rep Theatre in Cranbrook, B.C.
The Kozuskas received a call from Trumbley saying he was looking to put together a TV show and asked if they were interested.
"From what I understand, he looked at several teams, and yeah, he ended (picking) us. For Karina and I, it was a no-brainer," Jon Kozuska said in an October phone call. "How many people in their life get to say they did this TV thing?"
But the TV idea was short-lived, as a new idea came to light.
"True North Paranormal — what it was when we first started — we were filming on the basis of it being a TV show," Trumbley said in a September phone call on location in Grand Prairie, Alta. "We've switched gears and decided that instead of pursuing the TV market, we're going to do major motion picture distribution and give paranormal fans a bit of a different experience."
The target locations are the old-style theatres, thus the Vernon Towne Cinema, which was built in 1929 as a dance hall and live entertainment venue. The irony is attendees of the Aug. 21 premiere watched as the Kozuskas investigated the 30th Avenue location.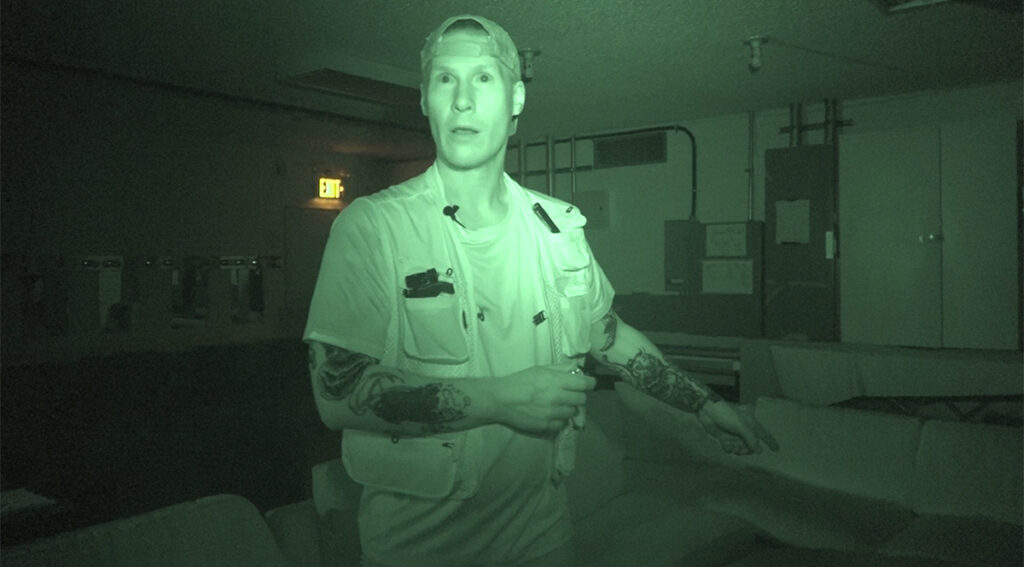 The irony is viewers at the Vernon Towne Cinema watched as the Kozuskas previously investigated the very location.
"Some people were sitting in the seats where things actually happened," Jon Kozuska said.
The Kozuskas — members of the Canadian Paranormal Research Society based out of Kamloops — have been investigating active locations for over 15 years.
Ghosts were the topic that helped Jon break the ice when he first met Karina, while he was touring with a Megadeth cover band.
Make no mistake, they are drawn to active locations, but they avoid using the term haunted.
"Dean and I have a really tough time with the word haunted," Jon Kozuska said. "We don't really say haunted, it's a place with activity. Haunted is such a turn-of-the-century term."
Karina is an empath medium, and Jon, along with Denise Frocklage-Trumbley, provides the research. They always keep what they know about the house or building from Karina.
Though Jon is well aware of his wife's abilities, they still freak him out.
"One instance really freaked me out. We were filming at a location in Winnipeg, and it was disclosed to me, five minutes before, that the lady's cat had passed away," he recalled. "Karina picked up on this cat."
For Jon, an experience he had at nine sent him on his current path. He was staying at his grandmother's house a few weeks after his grandfather's funeral. He awoke in the middle of the night to fetch a glass of water on the main floor. While walking down the L-shaped staircase, he saw his grandfather pass by the foot of the stairs. Shocked, and standing on the landing, he was overcome with emotion.
"I stopped and started crying. I got all emotional, and I flew down the stairs," he recalled. "Is this a dream? Is my grandfather really here. And he was gone.
"To this day, I don't know if I dreamt or whether I needed that because I wanted to see him so bad."
While other kids were dreaming of Disney Land, he wanted to visit a haunted house. Now, he investigates them for a living.
The next movie of Kozuska's premieres Oct. 30 at the Vernon Towne Cinema. That episode will feature another local haunt, the Powerhouse Theatre. Four more movies are currently in the editing stage of development.
"We're hoping to be the Canadian shows to penetrate the market the other way, which is to bring a paranormal TV show to North American viewers that's Canadian," Trumbley said.