An encounter with a Sasquatch at 6-years-old left an impression on actor Kiana Passmore.
The now 25-year-old was with her family in Campbell River, B.C. when she heard unexplainable noises and saw evidence that something large had crashed through the dense underbrush.
That memory provided the impetus for Passmore to head back to the Vancouver Island community known for its bigfoot mysteries. Passmore's recent collaboration with film director Jason Mills also provided an opportunity to scratch that curious itch of uncovering what it was she saw.
"My dad and I used to go into the woods and explore," Passmore said, in a mid-May phone interview with Mills. "I wanted to go back and see if we could see any traces of bigfoot."
Mills and Passmore worked together on the film Bigfoot Country, which was released in 2017. The premise involves two young couples camping out in the wilderness, only to be stalked by something big.
Though that story is fiction, the duo connected with B.C. Sasquatch investigator Thomas Sewid to get at ground level and create the documentary, Bigfoot Girl.
"We took the opportunity and some awesome stuff happened out there, which opened my mind," the 25-year-old Mills said, adding they camped in the dense brush outside of Campbell River.
What they heard was a large animal whooping like a monkey and tree knocking. What they saw were large footprints and rocks being thrown. They were quick to make plaster casts of those large prints.
"A lot of people don't believe, but that's something about the documentary that calls to me," Passmore said. "I wanted to see other people's experiences."
It's not uncommon for Vancouver Island sightings to be shared by residents. First Nations, such as the Coastal Salish, Kwakwaka'wakw and Nuu-chah-nulth, have shared stories of creatures such as the Tsunakwa. Dr. John Bindernagel, who died in 2018, had cast molds of footprints.
It's alleged by both Sewid and Bindernagel that the most active location for Sasquatch is Alert Bay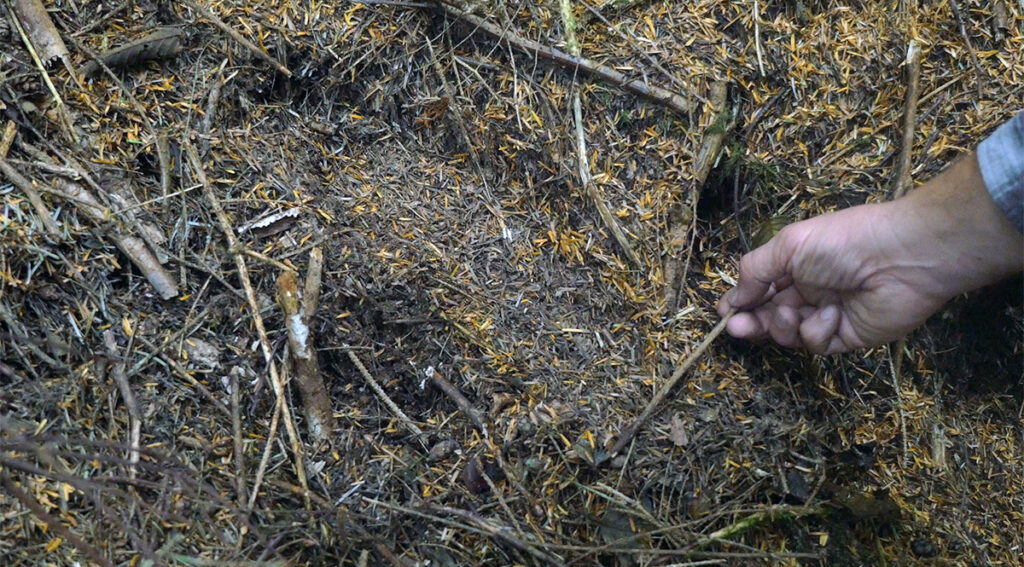 In March 2014, a fisheries officer witnessed something large — about eight to nine feet tall — in Ahousaht territory, not far from Tofino. Another experience had residents of Alert Bay, 132 km west-by-northwest of Campbell River, reporting large screams and howls coming from woods surrounding the small community.
For Passmore and Mills, there is hope that their documentary will avoid being drowned out by the glut of productions, and viewers will keep an open mind when relating to the cryptid.
"I would hope the audience would at least open their minds to the possibility of bigfoot being here and not just a myth," Passmore said. "Maybe we don't see it all the time but it lives among us."
A release date has yet to be set by Mills, but the documentary is set to be available on Google Play and Amazon Prime.