How can you have an expert in a field that isn't explained?
That's the question Burlington-based researcher of unknown phenomenon Michelle Desrochers posits during a December phone call.
She's been privy to the preternatural for the last 15 years, spending her time investigating malevolent hauntings and demonic infestations.
Desrochers has appeared as a resource on many paranormal shows, including Paranormal Survivor and A Haunting. She'll be filming both in the New Year.
Paranormal Survivor is an hour-long show that focuses on the encounters with ghosts, poltergeists and demons experienced by their guests. A Haunting features re-enactments of violent hauntings, possessions and visions from both infamous and lesser-known events.
What draws the scarlet-haired Desrochers to those particular shows is they allow people who are experiencing hauntings, but reticent to go to the media with their stories, to share their brushes with the fantastic without having the blowback of skeptics.
"I always call (Paranormal Survivor) the people's show. It gives people involved in these situations to reach out," she said. "And they reach out, I believe because there are a lot of people out there who don't know where to turn.
"They don't know if someone is going to believe them, think they're crazy."
The format of the show tends to have the victims, or witnesses, share their experiences, while actors act out the often-terrifying encounters. Desrochers is used as either a consultant, or experienced investigator.
"It gives a forum for people to be able to tell their story," she said. "I have had clients tell me that they find it somehow therapeutic – it's their way of paying it forward in hopes that their story and go on to help someone else."
Additionally, it helps people find Desrochers and Canada's Most Haunted, her parent organization. Furthermore, her appearances on television have provided her the privilege to research locations that would otherwise not be open, in particular, Casa Loma in Toronto.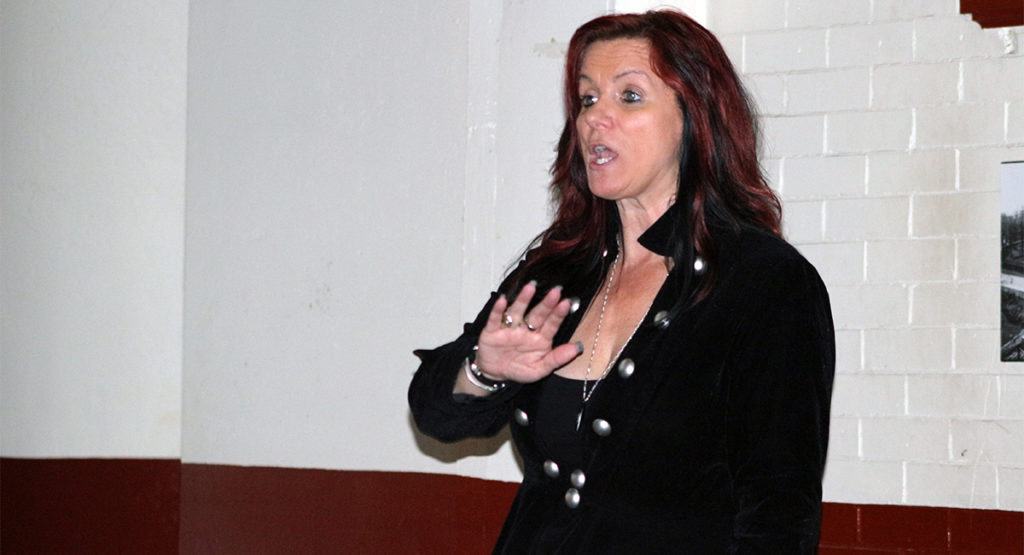 Be warned, however, there are a lot of "cowboys" on social media and Youtube that are of the ilk that cause more problems than solve them.
The rush is to get that irrefutable evidence that confirms the existence of an afterlife, or even other worldly entities. Desrochers often has to help the families involved.
"I clean up messes from groups who go in thinking they're all that. They cause so many problems," she said. "Or they go in, collect evidence and realize they can't help the people."
With the proliferation of dog-and-pony shows, cast in the hue of evergreen night vision, people often receive a skewed image of what paranormal investigators really do.
"I think there's too much ego in this business, unfortunately, for whatever reason," she said. "There's also a lot of inexperienced researchers. You have to start somewhere, but I would like to see more people come in and do it from the standpoint of making it about the people.
"When somebody entrusts me with their story – and safety – I take that very seriously. It humbles me as well."
Canada's investigator of the preternatural has a different modus operandi when dealing with matters that are dark and sensitive in nature.
She'll never directly address the spirit. Why? Desrochers shows her due diligence. She said she doesn't have the right to communicate with something that does not belong there as it could be mistaken as an invitation.
If left well enough alone, they'll make their presence known.
"When they don't get the attention, they act up like toddlers," she said.
She recalled one Canada's Most Haunted investigation where an independent bishop, Plato Angelakis, performed a blessing in the house. With him was his wife, who was acting as the medium. When the recording of the blessing was listened to, the shocking words, "Yours unholy whore" were heard.
"When that came through, I almost fell off the couch," Desrochers recounted. "It was a bit alarming because that shouldn't have been there. It was just our researcher going through the process."
Still, she refuses to address any entities because she perceives them as an invitation.
She'll continue to walk through a home and have a look-see, often talking to herself, "What's up with that?"
And she will perform her due diligence, working with doctors to determine whether a case is rooted in the delicate nature of mental illness. She'll also address different faiths and provide the required evidence for more rigid doctrines, such as Roman Catholic.
"I need to find out. I've dabbled with the study of religion. For example, if I have a Christian family, I cannot deal with it in a Buddhist way. I can't deal with a Muslim family and come out with a Catholic way," she said. "I try to work with what background they are. It's my job to help them reach out and find their faith, and realize they haven't been abandoned."
And if it weren't for her work on shows, people in similar circumstances would be unable to find the help they need.
Social media has provided a great outlet for people to reach out to her. But, with easy access comes the slippery slope.
That's why it's always important to have an open mind.
Keeping a little advice in her internal notebook, passed down to her by one of her mentors Lorraine Warren, Desrochers investigates with a drive to help people experiencing the unexplainable with a dash of modesty.
"There are no experts in this field. Lorraine Warren taught me that. She said to me, 'You know dear, we're always students'," Desrochers recalled. "I never stop learning. The paranormal is changing, in respects to its research.
"There's a lot of new age stuff being blended in, but it does open more doors for silliness."