A new Canadian-produced documentary on the Richardson-Arnold house in Harrisville, R.I. is debunking the Hollywood-perpetuated untruths behind the farmstead made famous by The Conjuring film.
Cream Productions producer and director Sunny Grewal took on the role as quarterback for Bathsheba: Search for Evil, which had the team travel to Rhode Island with Vancouver-born paranormal investigator Erin Goodpipe to uncover the history behind the vilified Bathsheba Sherman.
Sherman, who was born in 1812, did not reside in the Richardson-Arnold house made infamous by Ed and Lorraine Warren, nor was she charged with murdering her children, as the rumours have stated.
It's a detail that the eldest sister of the Perron family, Andrea, wanted to get across as she shared her family's experiences with the crew of the series.
"I don't think you should accuse someone of murder unless you have the evidence to prove it," Perron said, while on a phone call from her Florida home. "I can't absolve (Bathsheba), but I can certainly defend her. And I don't think if she had done what she was accused of, she would not have buried hallowed ground in the middle of Harrisville village."
The matriarch of the family, Carolyn, discovered the property in June 1970. Andrea turned 12 that October when the Perrons moved in after the Kenyons. It was shared with the Perrons by neighbours in Harrisville that Kenyons would leave the lights on in the house 24/7.
"It was lit up like a Christmas tree," Perron said.
The Perrons would sell the house in June 1980. Everyone moved to Georgia, save for Nancy Perron. She was upset with the sale of the house and would offer to stay on with the new owners as their babysitter, and eventually caretaker.
As to why they lasted so long in the house, Andrea Perron said she suspects that the family was supposed to stay.
"We were supposed to assimilate and interact with them in the ways that we did and that we were supposed to make peace with them in the way that we did," she recalled. "Then, and only then would we be able to leave. And my mother had to ask them permission to leave the house because when my parents put it on the market in 1980."
Perron's role as eldest sister evolved throughout their life in the house. Carolyn Perron's health deteriorated, and their father Roger was working as a jewellery manufacturer.
"It was incumbent upon me to step into a more mature role," Andrea Perron said. "I accepted a lot of responsibility, young and I carried it well. I became like a third parent.
"My sisters, as they were having experiences in the house, came and told me," she added. "Because it seemed something was not right with mom, and nobody wanted to burden her, and she, of course wasn't sharing her experiences with her children because that would've terrified us."
It wasn't until after six months after moving into the farmstead that Andrea spoke with her mother about the Perron children's experiences. They held a family meeting in the kitchen, without April, who was only 5 at the time and shared their brushes with the other side.
Cindy Perron had witnessed an apparition on the first day of moving in. She would also hear voices repeating the phrase, "There are seven dead soldiers buried in the wall," and shared that with Andrea.
"We went from being a normal family to a paranormal family; living in a natural environment in a suburb of Providence to a supernatural environment in a house that was a portal cleverly disguised as a farmhouse," Andrea Perron said.
Once Carolyn Perron shared the details with Roger, that's "when all hell broke loose." There would be no further talk of moving.
A Rhode Island College group, Parapsychology Investigation and Research Organization came to investigate the home, and subsequently, the Warrens came in to poke and prod the spirits in October 1973. That's when Bathsheba was linked to the haunting.
In an attempt to rid the house of the darker aspects of the haunting, they held a séance in August 1974. It almost cost Carolyn Perron her life, as the entity knocked her across the room. Unfortunately, Andrea and her sisters witnessed the event.
"The Warrens coming into the picture, honestly, it did change everything," Perron said. "What was conjured up during the séance was unadulterated evil. It was not of this world.
"It was not spirit; it was something else," she added. "I just know that evil exists and it was an energy — a very powerful force — that entered my mother for a few moments and spoke in a language through her that does not exist on this planet."
The dark entity that revealed itself that night of the séance did not show its presence again. Andrea Perron said they still had experiences within the home, but there was nothing that threatened their lives.
"For the most part, the spirits were benign or even benevolent," she said. "It wasn't all about being darkness, it was about being light, and that's how the series book got their name, House of Dark, House of Light."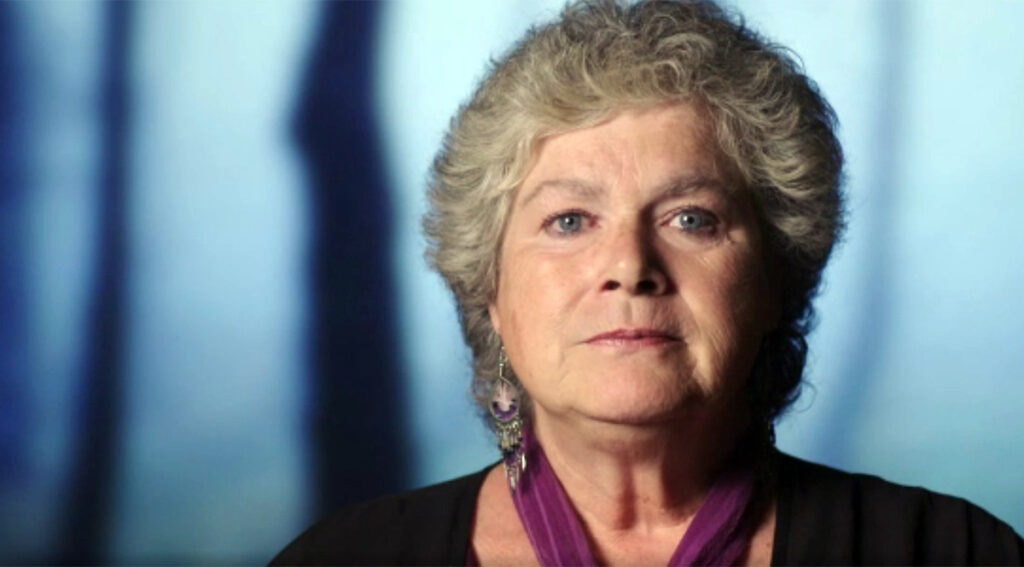 The investigation
Bathsheba: Search for Evil doesn't just focus on the ordeal that the Perron family lived through at the Richardson-Arnold farmstead in Harrisville. It also performs a deep dive into Bathsheba Sherman, the real person who was vilified in the 2013 movie.
Erin Goodpipe, a paranormal investigator who is Dakȟóta and Anishinaabe, travelled to Harrisville to uncover the history of the Richardson-Arnold farmstead, as well as learn about Bathsheba Sherman.
The impetus for her was to uncover who Sherman was and to confirm whether or not the rumours perpetuated by the movie had any weight to them.
"My work as an investigator is about searching for the truth and being able to share that truth to other people," she said, in a September interview. "The house on Round Top Road, or a.k.a. the Conjuring House, it's just one of those places so many people talk about as a hotbed for spiritual activity. It's its own myth."
Admittedly, Goodpipe admitted that she is wary of Hollywood interpretations. She was curious about what are the facts behind the story.
"I felt that it was really important to talk to the family, talk to the people who reside there, talk to the historians — local historians — and talk to the Indigenous people there," she said.
First Nations who inhabited the area of Rhode Island before European settlers were the Narragansett and Wampanoag.
What Goodpipe uncovered was that Sherman did not kill herself; she had an association with the land, nor did she kill her children. Even more intriguing was the fact that Sherman had a Christian burial in town.
"In the documentary, there are parts where we talk to people in the area and they talk about her headstone in the cemetery being defaced," she recalled. "We need to look at the impact of such stories. It comes back to the story and that Hollywood narrative is a large story that's impacting people's lives, and especially women's lives."
The female perspective was front and centre during the production of Bathsheba: Search of Evil. Director Sunny Grewal said that most of the crew were female, and her own familial influences, including her mother Daljeet growing up in the rural area of Punjab, India, gave her the matter-of-fact perspective that the paranormal does exist.
"There was something interesting about having those different viewpoints of different cultures in that space and in our team, attaching a story like this also, that is just so based on women, right?" the 33-year-old said in an October interview. "The Perron sisters, and Carolyn and Bathsheba herself, and these female entities involved and we were a majority female creative team on that, which you don't always have."
Goodpipe admitted that the title of investigator does not sit well with her, as it sometimes doesn't reflect her Indigenous beliefs.
"Going in as a paranormal investigator is sometimes a funny word for me because I just refer to it as my identity as an Indigenous woman. We exist in the world knowing there's a spiritual realm, knowing that everything has spiritual energy and our ethics change because of that," she admitted, adding she was raised by two elders. "Those perspectives are huge. They are my identity."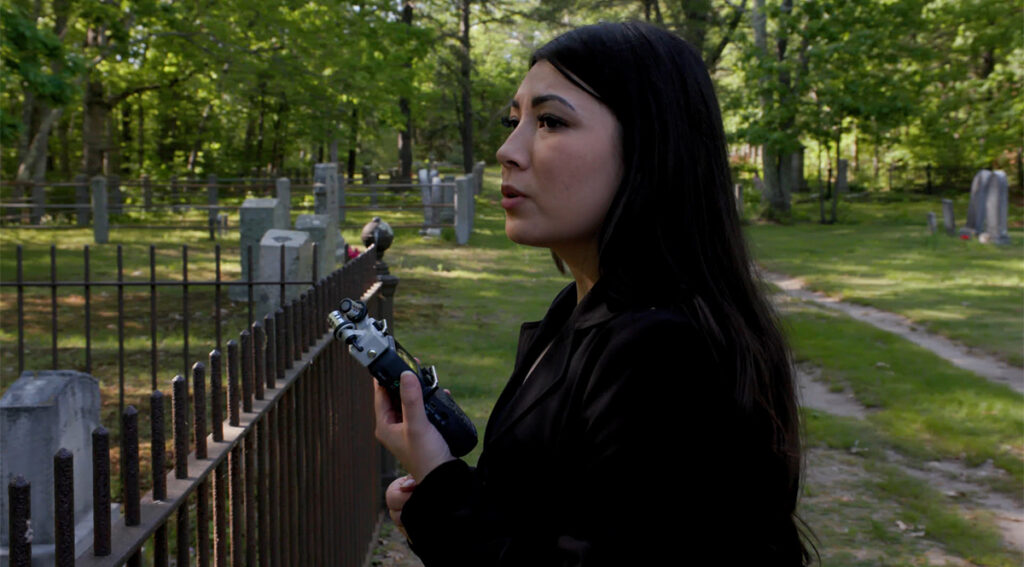 What's haunting the Conjuring House?
Although Bathsheba Sherman has not been fully exonerated from the Richardson-Arnold farmstead haunting, the question remains, what is haunting the property on Round Top Road.
During the filming of the documentary, a door to the house opened and closed on its own volition, leaving both the crew and Goodpipe at a loss.
"It was incredible," Grewal said. "We didn't fully realize that we had caught it until we were reviewing the footage because it did happen quite quickly."
The current residents of the home, Cory and Jen Heinzen moved into the Richardson-Arnold farmstead on June 21, 2019. They are paranormal investigators and did investigate the house when they first bought it. For the first six months, they kept a log of all the strange events that occurred, but because of the activity, and the lack of any connections with the weather, or moon cycles, they stopped keeping track.
"It's unlike an overnight investigation when you do it long-term," Jen Heinzen said, during an October phone call. "It's funny to say that it's just home now."
The Heinzens were contacted by the Cream Productions team and they were refreshed to hear the crew's intentions to solve the mystery surrounding Bathsheba.
"We liked the idea because they were looking to either vindicate whatever they could," Cory Heinzen said. "They were pulling out all the stops on it, which was awesome.
"A lot of people are going to be very surprised at some of the stuff that they were able to find because we were surprised and we've been doing this for two years."
Hollywood, for the Heinzens, has taken a lot of liberties in telling stories as they relate to the paranormal. The Sherman family name has been "dragged through the mud" because Hollywood wanted to embellish the story.
The Heinzens acknowledged this, but they don't believe that the Warrens are to blame for the Bathsheba rumours, either.
"I don't think Lorrain Warren would walk into this house and pull Bathsheba's name out of thin air for no reason at all," Cory Heinzen said. "We'd never had the chance to meet her before she passed, or Ed, but from everybody we've talked to (has said) that wasn't her MO."
Even though the Heinzens have been investigating the house for two years, they have placed the house on the market. But they are being picky with who they sell to, and they are not afraid to say no.
"We're waiting for the right caretaker to take over for us," Cory Heinzen said. "We've had many, many people put their foot in the door, and they're not the right fit."
And they admit that they are keeping an eye out for a certain party from the Las Vegas area to ensure they don't purchase the house.
"Honest to God, the only way he would, is if he snuck through the back, with an unknown buyer," Cory Heinzen admitted. "Our team of realtors, they have lawyers that look into every LLC, trying to make sure that name doesn't pop up or anybody associated with that name."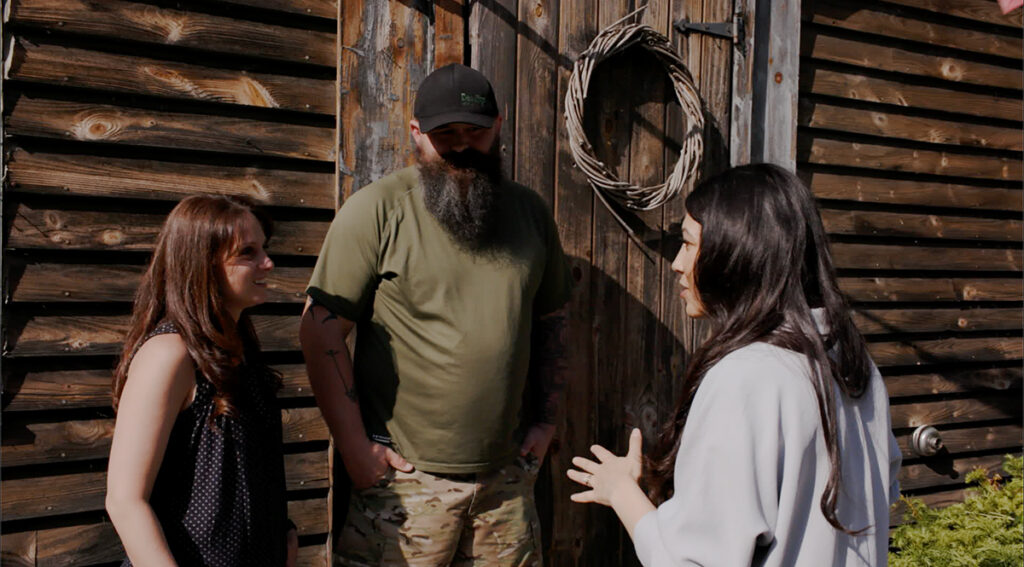 The Perron family story finale
All the Perron sisters, save for the youngest, April, participated in the documentary, as well as their father, Roger. April died in 2017 at the age of 51. Carolyn Perron is 82 and was unable to comfortably take part in the interviews.
But Andrea did mention the missing family members were with them in spirit.
"I've made a lot of documentaries since the film (in 2013), and nothing holds a candle to this production," Perron said. "They allowed us to speak our truth."
"They were authentic and they were honest," she added. "They didn't want to exploit our family, they just simply wanted to bring the truth to light, and for that, I will always be thankful."
Bathsheba: Search for Evil will premiere to the world on T+E, Oct. 11 at 9 p.m. Creep Week runs from Oct. 9 to Oct. 17. Be sure to visit T+E for more exclusive content.