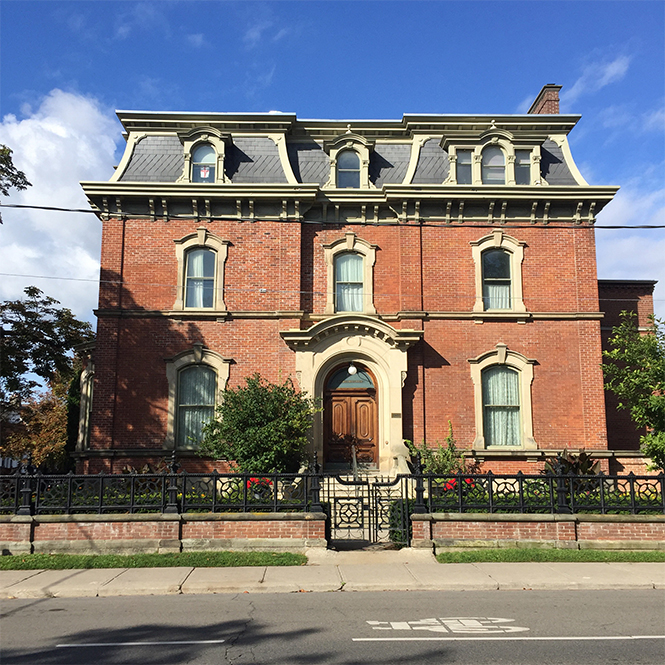 When you walk along Beverley Street in Toronto, south from U of T's St. George campus, an unassuming mansion, once inhabited by George Brown, will greet them at the Baldwin Street intersection.
Its three-storey, red brick façade, Italianate details complete with Victorian mansard roof and dormer windows announces itself in bold Gothic fashion. And just like the ghost stories of Algernon Blackwood and Arthur Machen, this home to one of Canada's Fathers of Confederation has a few yarns to share.
It's one of the reasons why mentalist Jaymes White has chosen the building for his seances from September 13 to November 30.
"A lot of people I spoke with did not know the George Brown house. I'm like, 'How do you not know this mansion?'" the 32-year-old Ottawa native said, while seated in the Art Nouveau dining room of the homestead. "When you see it from the outside, you're just blown away. It's so quiet, and it's right in the middle of downtown."
Ask most Torontonians about the building and they'll look blankly at you, but the Ontario Heritage Trust has maintained it to its true form since 1987.
How did it come to White's attention? A few of his fans suggested it to his scout Mari that George Brown House is the perfect option.
"When we're looking for a location, we do a call out to our fans and ask if they know of any haunted locations, give us options. One or two people said George Brown house," White said. "We started doing our research into it, and contacting them, and we realized this was our number choice in Toronto, out of everywhere, because it's hard to find history in a place that they maintain."
A Quick Ghost Story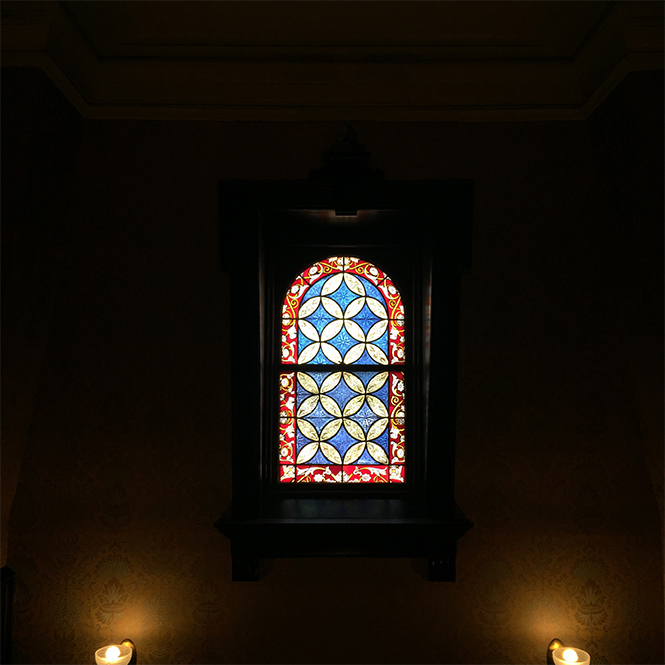 As for any spooky goings-on in the building, White has done his research and came across one tenant who had a startling story to tell.
The George Brown House is home to several businesses and one employee had the dubious honour of running into one of its resident spirits.
"He was working late, and no one was in the house, or so he claims, and when he was going down the stairs, he swore he saw a kid," White said, with a smile. "He didn't know what to do. It was at 11 o'clock. So, he went up to the kid, and he claimed the kid had no face."
Naturally, the flight response kicked in and the gentleman subsequently found himself setting off the alarm from a fire exit that was in the opposite direction.
Security was alerted and he found himself trying to explain the situation.
"He told them there was a kid in the house, and (security) checked all the cameras and they didn't find anything," White said.
Other bizarre happenings have people wandering off, allegedly not on their own volition, to find themselves in another part of the house.
This is what's commonly referred to as unconscious fraud within the paranormal community.
"Have you seen the movie The Amityville Horror or The Shining?" he asked. "They get drawn to an area, and they realize they are there, but they don't know why they're there.
"People get drawn to random areas and they don't realize they are going," he added. "I don't know if it's a form of hypnosis or possession, but it's common."
A Little Bit of History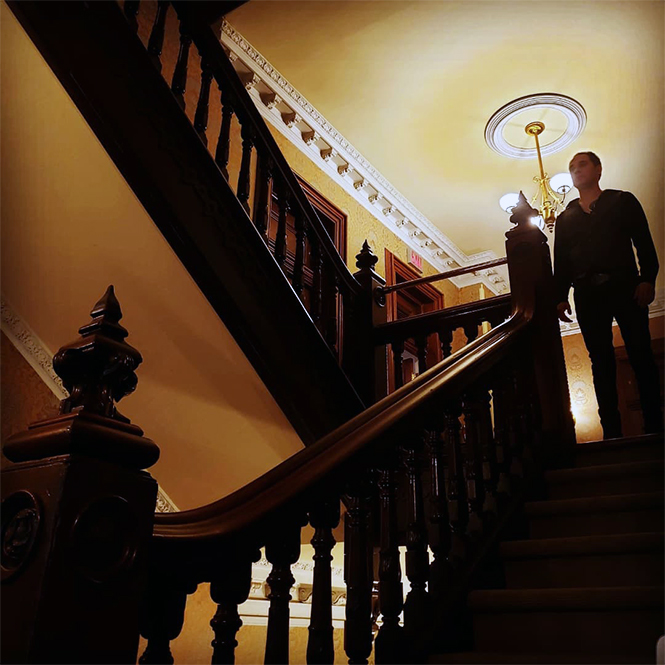 While touring the home earlier in the interview, White revealed that George Brown passed away at the home. He had been shot by former Globe employee George Bennett, and although the wound was not fatal, it later turned gangrenous and he succumbed to the complications on May 9, 1880.
The home, named Lambton Lodge by the Browns, airs its architectural gifts to visitors once they main hall. Vaulted ceilings, ornate cornices and medallions adorn the drawing rooms and George Brown's office, overlooking Beverley.
There are 12 fireplaces made of white Italian marble or faux-finished slate. In the drawing room, there is a polished marble mantel with the initials of George and Anne Brown on the cartouche.
After the Browns, Duncan Coulson, the general manager of the Bank of Toronto, purchased then-called Lambton Lodge in 1889 for $31,000 and moved his family there in 1891. After his death in 1916 — which was also in the house — his wife sold it for a song to the Canadian National Institute for the Blind in 1920, where they remained until 1956.
In 1976, the Government of Canada designated it a National Historic Site. The Ontario Heritage Foundation, now the Ontario Heritage Trust, took possession of the homestead in 1986. Archaeological excavations, along with renovations began in 1987.
"I'm really grateful for the Ontario Heritage Trust for preserving this place," White said. "I like the exclusivity, in the sense that they don't let a lot of people into this house."
A Little Bit About the Host
While he's not a psychic, White has always been drawn to the paranormal.
"I'd say I'm a skeptic at heart," he admitted. "A lot of the concepts that people believe regarding spirits are psychological principles. For example, the old-school recorders, and the recorder flips on itself."
There's no need to balk at his skeptic comment. As a mentalist, he said he believes there are effective mediums out there, but he hasn't seen one that's convinced him.
White grew up in Ottawa, and he admitted to having trouble connecting with people, ergo he learned techniques on how to read them.
"I found patterns that everyone has," he said, pointing to a wristwatch. "For example, I can tell you are left-handed because your watch is on the other hand. It's the little things like that where you notice human patterns."
He earned a degree in criminology and is often sought out as a consultant for law enforcement.
When it comes to the séance, it's not just the traditional table-rapping, sitting around in a circle holding hands modus operandi. He'll throw in the occasional Ouija board, of which he has 103 allegedly cursed boards, with planchettes, or go for a walkabout.
He will adapt the presentation to the whims of the house, or the audience.
"We want to be diverse. If we have a technique that's working, we focus on that area. If someone feels a connection in a certain area, we'll go that way," White said. "It's kind of like you guys lead the seance, I'm more like the host."
Diversity also explains why they are not at the same location. In the spring, he held his séance at the Black Creek Pioneer Village in Etobicoke.
What he hopes for the most from visitors to his séance experience is that they have an experience that is tailored to both the skeptics and the believers.
"I can guarantee (visitors) that it is an experience they've never had before," he said. "There are no jump scares. It's all in your head.
"I get so many messages about people breaking and crying," he added. "You get some messages from people saying they haven't slept in days, or they had to sleep with the lights on for weeks."